Tree Trimming Services for Beautiful and Healthy Trees
Trees need to be trimmed to not only shape them but to also remove dead or low branches. It also gives your trees the strength to fight infection. Dorshak Tree Specialists offers tree trimming or tree pruning services for your home or business property. We service Milwaukee County, Waukesha County, & the surrounding areas of southeastern Wisconsin. Our team is dedicated to helping you preserve the beauty of your trees. Call 262-783-8733 for a FREE estimate.
Our Tree Trimming Process
Every tree is unique. A typical tree trim or tree pruning service consists of removing dead wood, crossover branches, thinning over dense trees for sun exposure, and pruning to conform to the general shape. We also remove branches close to power lines, phone lines, or are against your roof to prevent damage and injury.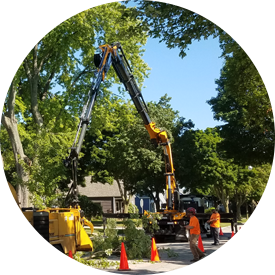 Why Should I Keep My Trees Trimmed?

Keeps insects and other pests from
using overhanging branches as
a pathway to your home.

Prevents storm damage saving you
thousands from costly repairs

Keeps trees healthy


Increases curb appeal and
property value
Our Certified Arborists come out to your home or business for an assessment of your tree.
Call us at 262-783-8733 to schedule your tree service.